Arts Council England has announced that the Sedgwick Museum of Earth Sciences is among 28 organisations to be awarded Designation Development Funding. A total of £2.1 million has been awarded across the country, drawn from the National Lottery, with the Sedgwick Museum receiving £89,406
The Sedgwick Museum will create a world leading centre for research into its exceptional collections of rocks and fossils, with a network of cutting-edge researchers at its heart. The Museum will take a leadership role around the care and usage of Earth science collections, as well as opening the collections to the public and creating sustainable volunteering opportunities for the community.

"Our museum collections are an incredible resource to inspire, entertain, engage and educate audiences. It is important that they are protected, whilst remaining available to all. The creation of the Collections Research Centre for Earth Science will not only ensure the Sedgwick Museum remains at the forefront of research in the field, but also mean that the general public can get greater access to its wonderful collection." said Hedley Swain of Arts Council England.
"This is a hugely exciting opportunity to open up the Museum's collections of rocks, fossils and minerals to researchers and to our communities, realising the potential of this important international resource. We are very grateful for the support of Arts Council England in this next chapter of the Museum's development." said Liz Hide, Director of the Sedgwick Museum.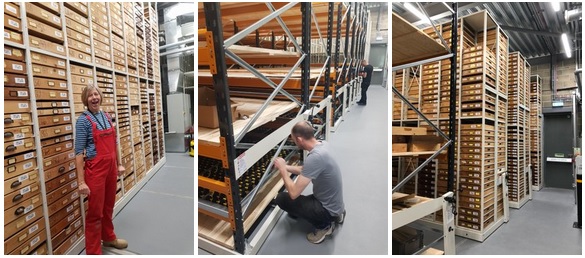 Designation Development Fund
Recognising the importance of maintaining excellent collections across the country, the Designation Development Fund supports projects that ensure their long-term sustainability, maximise public value and encourage the sharing of best practice across the sector. This round was open to Designated library collections for the first time, with four successfully receiving funding.
The Designation Development Fund provides funding for organisations already recognised by the Designated Scheme, which champions national and internationally significant collections held in museums, libraries and archives.