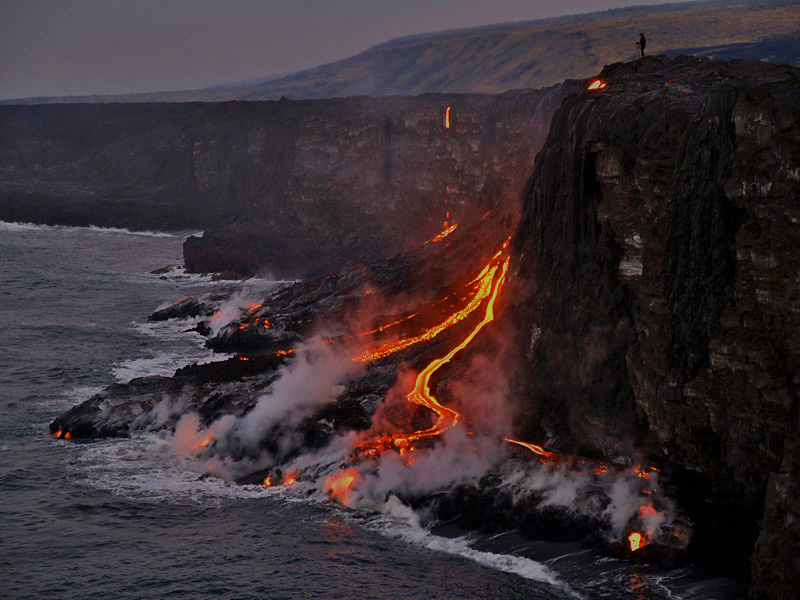 This grouping combines research into igneous, metamorphic and volcanic processes to enhance understanding of global tectonics as well as their more immediate impacts on our surficial environment. Our strategy is to integrate geological observational studies (field work, petrology, geochemical and isotopic analyses) with interdisciplinary work on multiphase flow in deformable media and the properties of the materials involved.
Current Research
Mantle heterogeneity and melt transport: Isotope geochemistry, microanalysis and thermodynamics are used to characterise compositional heterogeneity in the convecting mantle. These observations constrain our statistical and computational models of the long-term evolution of Earth's geochemical structure and now highlight the relationship between heterogeneity and melt transport.
Mantle convection and lithospheric structure: The study of mafic and ultramafic rocks from ocean islands, mid-ocean ridges, large igneous provinces and the continental interiors is used to probe mantle thermal structure and flow field and test models of mantle convection and lithospheric stability.
Magma chambers: Observations of rock textures and compositional microanalyses are coupled with theoretical models and the results of laboratory experiments to understand magma chamber processes, including evolution of crystal mushes at chamber margins and mixing in the chamber interior.
Volcanic processes: The establishment of remote, high-resolution measurements of volcanic gases in conjunction with analyses of melt inclusions to model the physical processes occurring during volcanic eruptions.
Thermodynamics, Mountain Building and Crustal Evolution: Quantitative estimates of changes in pressure and temperature are being made using mineral compositional zonation and thermodynamic databases. The complexity of zoning can be linked to tectonic movements in the Earth's crust.
We have well-equipped geochemical laboratories for the preparation and geochemical analysis of minerals and rocks. The Department has laboratories for high pressure and temperature experiments and also for fluid dynamical investigations.
---
People specializing in this area