Congratulations to Professor Marian Holness, Dr Nigel Woodcock and Dr Brendan McCormick Kilbride who each received awards from the Geological Society of London. The awards were presented on President's Day on 6 June 2019.
Marian Holness, Professor of Petrology, received the Murchison Medal. The medal is awarded annually to a scientist who has made a significant contribution to the Geological Sciences by means of a substantial body of work.  Marian's research is concentrated on understanding the processes which occur during the melting and solidification of rocks, using the microstructural record to decode thermal history and the physical behaviour of the melt-solid mixtures.
Professor Marian Holness said "I am delighted and honoured, but rather astonished, to have been awarded the 2019 Murchison Medal, joining an impressive list of Earth Scientists stretching back to 1873. Few scientists work entirely alone, and I have always been dependent on the support and contributions of others: I salute my collaborators and colleagues with whom I have had the privilege to work and to whom I am enormously grateful for this recognition by the Geological Society."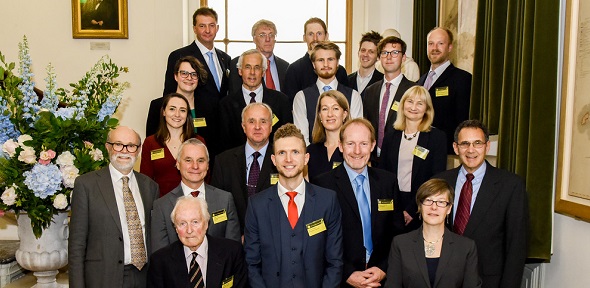 Nigel Woodcock, Emeritus Reader, became the second recipient of the Dewey Medal.  This medal is awarded to a geologist who has made a substantial and significant contribution to geology through sustained field mapping and field observation of rocks and has a strong record of training, leading and encouraging others to practise and pursue advances in geology by this means. 
Nigel has 48 years' experience of field-based research in the East Mediterranean area and the UK, supervising 22 PhD students and 18 MSci students. Between 1974 and 2016 Nigel taught on, and since 1982 led, the Cambridge geological mapping course to Sedbergh, Cumbria, teaching some 2000 undergraduates to make geological maps.  
"I regard the pleasure of field work as its own reward" Dr Nigel Woodcock said, "so I'm surprised and delighted to be awarded the Dewey Medal for contributions to geology through field mapping. I'm particularly pleased that the award recognises the teaching of mapping as well as its use in research. Enthusing students in the field remains central to our subject."
Brendan McCormick Kilbride, Research Associate, was awarded the William Smith Fund for 2019.  The Fund is awarded for excellence in contributions to applied and economic aspects of geoscience; recipients must be within ten years of the award of their first degree.  Brendan's research draws on satellite- and field-based methods to study volcanic gas emissions, most notably in recent years on active volcanoes in Papua New Guinea.